STRUCTURES NEED STRENGTH.
THAT'S WHERE WE COME IN.
Bocci Group Inc. is a concrete construction company that specializes in structural concrete, foundations, formwork, concrete placement & finishing, and reinforcing installation.
View our commercial and residential concrete construction portfolios by selecting a category below. Do let us know if you have any questions about the projects we have completed.
To whom It may concern,
Crossland worked with Robbie Boccabello and the Bocci Group on the Building T Project in Miramar Beach in late 2016 and early 2017. Bocci Group performed turnkey concrete foundations, flatwork, and elevated decks. Bocci Group provided excellent field management, communication, and manpower to meet all critical path deadlines during this fast paced project.

Robbie is a genuine team player and he worked closely with Crossland to ensure the success of this job. Bocci Group teamed with Crossland to deliver a high quality finished product to the owner ahead of schedule. I would like to extend our sincere recommendation for Bocci Group on any future construction projects and express my desire to work further with them.
Sincerely,
Nate Kirk
Project Manager
Crossland Construction Company Inc.
(620)‐762‐1449
STEWART PERRY COMMERCIAL BUILDERS
To whom it may concern,
Our company worked with Bocci Group Inc. on a complex retail project in Miramar Beach, Florida with challenging site conditions and an aggressive schedule. This project took months to plan and was a success in large part due to Bocci's collaborative efforts.

The project site was located in a swamp, therefore the phasing and coordination of the work was critical. Bocci Group did a fantastic job being proactive in tackling these issues and working to solve problems so that the project was completed on time. We did not have to worry about sufficient manpower or the quality of the work.

I would recommend Bocci Group for any of your concrete needs.
Sincerely,
Eddie Cassell
CHILDERS CONSTRUCTION CO.
To whom it may concern,
Childers Construction Company has been working with Bocci Group, Inc. on the past couple of projects. In that time, they have proven to be a very valuable asset on each project. Bocci  Group has recently provided the concrete work for the Acme Oyster House which included a structural slab on grade which had to tie into the existing pile caps. They came highly  recommended to us from both suppliers and other general contractors and have lived up to their reputation. We have complete confidence in their ability and look forward to working with them in the future.

My experience with Bocci Group and Robbie Boccabello has shown them to be very professional and reliable. I would recommend them for your consideration. If you should need any additional information, please don't hesitate to contact me at your convenience.
Sincerely,
John Daum
Director of West Florida Operations
We also invite you to view our updates where you can see information about current projects, recently completed projects and company news. Below are three recent updates for you to view.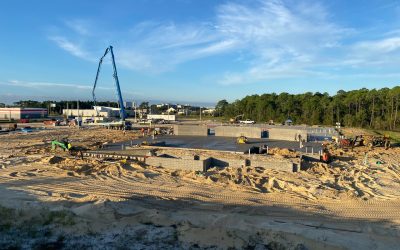 Slab on Grade Placements at the new Destiny Worship Center in Navarre, FL.
read more
Bocci Group Inc. was incorporated in 2007 in Atlanta, Georgia. We primarily focused on commercial concrete work in the Atlanta Georgia area until 2014 when we expanded into the Florida panhandle and began working on residential homes along the Gulf. We now work on both residential and commercial projects across the Southeast with a large highly qualified and skilled team.
LEAH BOCCABELLO
President, CFO & Owner
Leah joined Bocci Group in 2011 and is responsible for accounting, finance, office administration, human resources and payroll functions. She has earned a Bachelor of Business Administration in Accounting from The University of Georgia and a Master of Accountancy from The University of Georgia. She is also a Certified Public Accountant and Certified Internal Auditor. Prior to joining Bocci Group, Leah worked in Public Accounting and Corporate Internal Auditing.
"I enjoy being able to use my background and accounting knowledge to support our family owned business. I am really proud of how Bocci Group has grown and love seeing our contributions to the amazing buildings and homes we have worked on."
ROBBIE BOCCABELLO
Vice President, Chief Operating Officer & Owner
Robbie founded Bocci Group Inc. in June 2007. He is responsible for daily operations, strategic planning and business development. Robbie earned a Bachelor of Science in Construction from Southern Polytechnic State University and is a Licensed General Contractor. Prior to founding Bocci Group he worked as a Project Manager for various concrete construction companies.
"I enjoy being involved in a project from concept to completion. It is very satisfying to see a project through from the plans to the structure and then the completed product . Every project is different and each has its own challenges. From my childhood days of playing with Tonka trucks to now owning my own business building structures out of concrete, my dream has become a reality."
Bocci Group is committed to maintaining a safe working environment.  Our team members work together to ensure that job site injuries are reduced by focusing on safety in every task we perform.
Through continuous job training, safety classes, and regular on site safety meetings, each employee performs in compliance with our Safety Policy.
All of our employees are provided with the required safety equipment and we comply with all OSHA regulations and guidelines.
We continually review and improve our safety polices for every new project.
We are excited to work with you. Please do not hesitate to give us a phone call or email by the form below.
Bocci Group Inc.
P.O. Box 611338
Rosemary Beach, FL 32461
Please email us by using the form below.